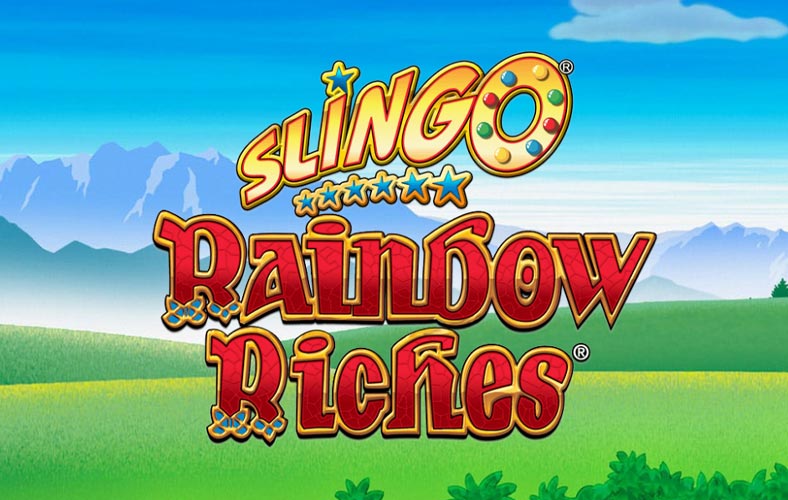 Giving your favourite iconic online slots game a Slingo spin, Slingo Rainbow Riches combines the classic rainbow game, with Larry the Leprechaun taking you on the ride to riches to the ultimate pot of gold.
The game is one of the Slingo Originals and has the classic bingo setup of a 5×5 grid – marking off more numbers and lines can unlock bonus rounds to increase your prize. Slingo Rainbow Riches has an enormous treasury of bonus rounds, mini-games and multipliers for bigger jackpots!
How do you play Slingo Rainbow Riches?
Playing is simple – Set your bet between £0.50 and £200 using the arrows on screen, you will receive ten initial spins to select numbers to mark off on your grid that match those appearing on the reel.
How to win Slingo Rainbow Riches?
Bonus rounds will help you win slingos and more prizes, a wishing well bonus is activated after you receive five slingos in a row which allows you to pick a multiplier, or the magic toadstool bonus!
Look out for symbols such as jokers and super jokers to help mark off more numbers on your grid, and coins symbols for instant cash wins.
Watch out, when an infamous devil symbol emerges, you will be blocked from marking any numbers in that column.
If you've got the Luck of the Irish and manage to mark off a full house, a mystical Pot of Gold bonus can be played which can activate the biggest payout! A bronze, silver and gold pot will appear, which pot is chosen will decide a multiplier between x50 and x1000 – is today your lucky day?
At the end of your game, you can buy additional spins for another bid at the golden jackpot.
Game Symbols
Game symbols you will find along the way can help you win slingos and mark off numbers, watch out for a devil symbol blocking your numbers:
Joker – mark off any number in the column the joker appears in
Super Joker – mark off any number in your grid
Devil – blocks marking off numbers in that column
Free Spin – gives you an extra spin for free
Bonus Rounds
Slingo Rainbow Riches has lots of exciting bonus rounds and opportunities to win prizes. Here's some of the best:
Wishing well – choose one of three wells for a prize
Cash crop – a field of coins will appear, each with a multiplier behind it, once you have chosen a coin, the coin toss will determine whether you receive the multiplier or choose another coin.
Magic toadstool – you will receive three chances to win a multiplier between 1x and 5x, or a fairy, who will give you prizes, and the chance to double or even treble your winnings.
Magic toadstool red – holds the same concept as the magic toadstool, however you will receive four chances to win.
Road to riches – spin the lucky wheel to move along 1-6 spaces of the road to riches, if the wheel lands on collect, you will receive the prize from your place on the trail.
Road to riches red – holds the same concept as the road to riches, but the prizes are doubled.
Pot of gold – Gold, silver and bronze pots will be presented, when they stop spinning your magical prize will be chosen: a multiplier between x50 to x1000.