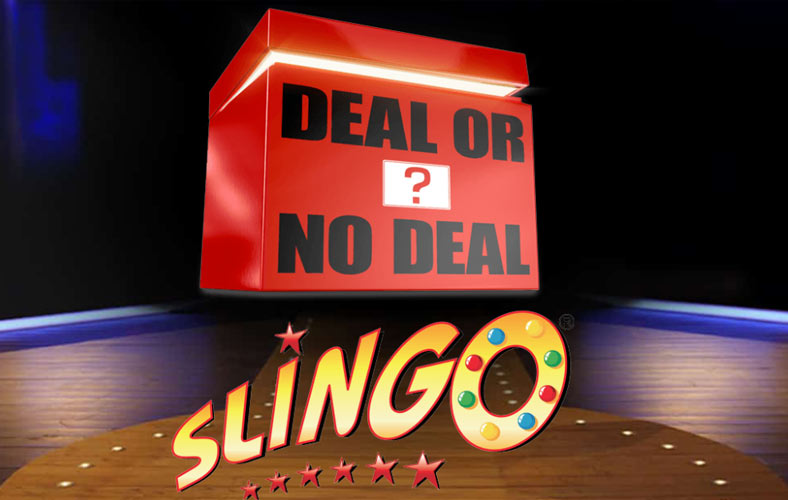 Slingo Deal or No Deal brings your favourite game show straight to your fingertips, with a jackpot of £100,000 cash! Your Slingo 5×5 grid will be filled with the classic red boxes, each containing a prize helping you work your way to a call from the black telephone and an offer from the banker!
How do you play Slingo Deal or No Deal?
Slingo Deal or No Deal is different to other Slingo games. Instead of numbers filling your 5×5 grid, there will be numbered red boxes – each will reveal a prize with every slingo you win. Start by placing your bet between £1 and £100 and select 'start'.
You will start with ten spins, match numbers on the reel with those on your red boxes, a complete row, column or diagonal will be rewarded with a slingo – this will move you up the prize multiplier on the left of your screen for bigger wins!
How do you win Slingo Deal or No Deal?
After you have won four slingos by completing rows, columns or diagonals, the Banker's Offer will be activated. The famous black telephone will ring and you will receive an offer from the Banker – to accept the offer select 'DEAL'. However, if you don't like the Banker's deal, select 'NO DEAL' and continue playing for more matches and slingos – and bigger multiplier prizes!
After every additional spin the multiplier up for grabs will increase – a full house will land you with a x20 multiplier!
After you have played your initial ten spins, you can purchase more to continue your game.
So what will you choose, deal or no deal?
Game Symbols
Look out for game symbols to help you towards the £100,000 top Slingo jackpot!
Joker – mark off any number in the column they appear in
Super Joker – mark off any number in your grid
Free spin – an opportunity for a free spin
Devil – blocks you from matching some numbers in your grid