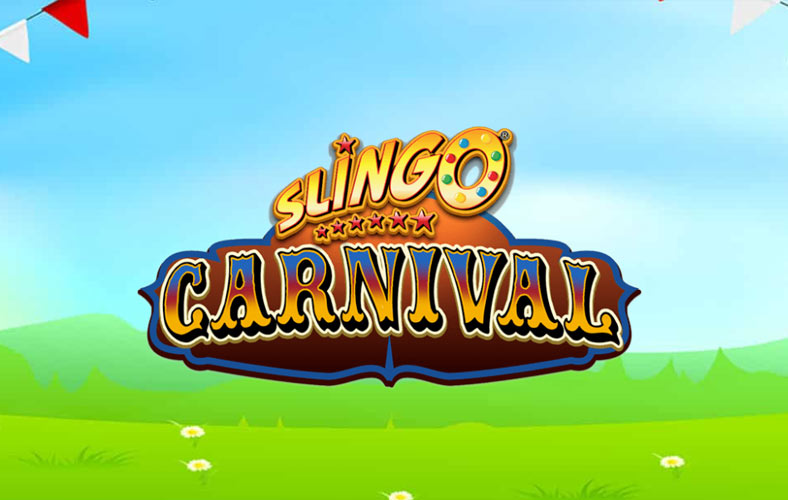 Slingo Carnival has the colourful fun of any real life Carnival, combining bingo and slots in this easy to play, fast spinning game, with a 5×5 bingo grid mark off numbers to win as many slingos as possible.
How do you play Slingo Carnival?
Start by placing your bet between £0.10 and £100 to give you ten spins to match your numbers with those on the reel. Complete rows, columns or diagonals in order to win slingos and unlock bonus rounds.
How do you win Slingo Carnival?
The key to Slingo Carnival is unlocking the bonus rounds and symbols for instant cash prizes. With seven bonus rounds up for play, just collect five or more slingos – by marking off a row, column or diagonal – in order to take you to colourful, carnival bonus rounds!
For another try at cash prizes, you can purchase ten extra spins at the end of your game.
Game Symbols
Look out for these symbols on your grid:
Super Joker – mark off any number on the grid
Devil – blocks marking off numbers in that column
Free spins – an opportunity for a free spin
Bonus Games
Bonus games in this top Slingo game will help you win prizes and instant cash jackpots!
Pick a toy bonus – pick from a selection of toys to reveal your prize.
Target time bonus – 50 targets spin to reveal multipliers – you will have four rounds to play, the prizes increasing each time.
Bottle toss bonus – you will have three balls to throw in order to reveal multiplier prizes from x1-x5, knocking down all bottles in one toss will triple you total win and knocking the bottles down with two balls will double your win!
Balloon popper bonus – take four dart throws at popping the balloons and revealing multipliers from 1x to 5x, some balloons may reveal extra throws, popping all balloons with one dart will multiply your total win by four!
Coaster climb bonus – spin the wheel to see if you can climb to the top of the coaster and collect your prize.
Log ride bonus -spin the wheel to float all the way to the top of the log ride until you can collect your prize.
Whirl winnings bonus – a wheel of 12 different multipliers will spin, until it lands and you can collect your prize to increase your winnings!
Join the carnival and party!