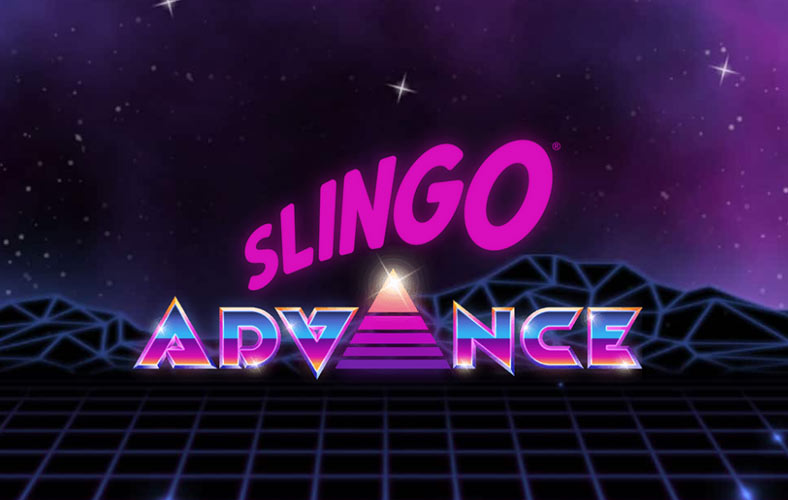 Slingo Advance gives your favourite retro game a fun slingo spin. To win you must mark off numbers in rows, columns, the letter 'T', the letter 'X' or a full house as you're taken through five levels to win a big jackpot.
The retro graphics and cosmic soundtrack of Slingo Advance will transform you back to the classic arcade game, all you need to do is press start!
How do you play Slingo Advance?
To place your bet between £0.20 and £25, use the stake button on the left of the screen and select spin to start your game.
To begin with, the bottom row of your grid will only be available to make matches, once you have made a match Level 2 will open and the wheel will spin again. After two matches on Level 2, Level 3 will open – and so on until Level 5.
You can purchase extra spins at the end of games on Level 2 or above for an extra chance at a jackpot. To collect your winnings and end the game, press the 'collect' button.
How do you win Slingo Advance?
With each match you will be awarded with a star, which corresponds with your prize. Mark off a row, column to win stars or the letter 'T', the letter 'X' or full house to win a jackpot!
In each level the multiplier of your prize will depend on your stake, for example in Level 1 if your stake is £1 the pay is £1, in Level 2 pay will be £2, in Level 3 pay will be £5, etc.
Are you ready to travel to outer space and play for a big jackpot?
Game characters and features of Slingo Advance
In your game of Slingo Advance you will meet characters along the way and find symbols and features helping you collect stars and prizes.
Joker – when the neon Joker symbol appears, you can mark off any number in that column, helping you win prizes.
Pink and purple triangle – this is the Advance symbol and means you have successfully unlocked the next level of your game.
Red 'X' – this is the blocker symbol and will stop you from marking off a number in that column.
Extra spins – this feature allows you to purchase extra spins in games that are on or above Level 2.
Jump into a new dimension with Slingo Advance and mark off numbers for that jackpot!